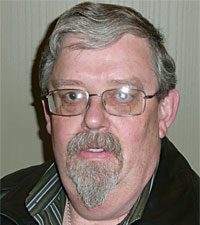 Harry graduated from BCIT in Mining and Technology in 1975. He received his commission as a British Columbia Land Surveyor in 1982 and started surveying in Quesnel and Williams Lake. He has been working on diverse projects and a variety of legal surveys for land development in the lower mainland area since 1990 including General Motors Place, the (new) Vancouver Public Library, and the Bayshore re-development.
Harry excels at woodworking and among many of his creations was a custom hand made ballot box presented to the Association of British Columbia Land Surveyors for their 100th anniversary.  Other interests include camping and fishing and old cars and trucks.
Harry has been involved with Chapman Land Surveying from 1992-2001 and 2005 to present.